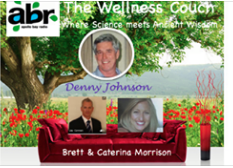 Birth Order and Family Dynamics:
How does your birth order in the family affect you, relationship dynamics, personality and what you came here to do? Who are you attracted to for friendship and relationships? How does it affect your health and potential?What if you had an owners manual to understand and handle all relationships?
Find out on The Wellness Couch podcast as we chat to Rayid founder Denny Johnson who joins us personally in the studio from Seattle, USA.