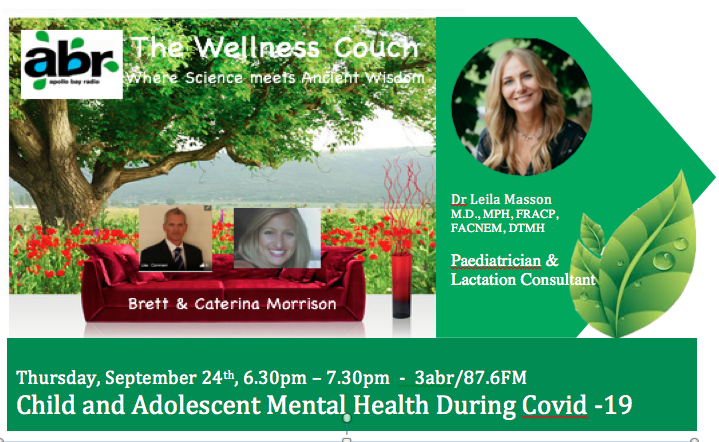 CHILD and ADOLESCENT MENTAL HEALTH DURING COVID-19 LOCKDOWN
Significant information to help parents with Child and Adolescent Mental Health during Lockdown.
Dr Leila Masson will discuss the effects of the COVID-19 pandemic on young people's mental health and offer practical tips on what families can do to counter these.
For example, children in social isolation may produce less oxytocin and be in constant sympathetic overdrive. There are a myriad of lifestyle and nutritional interventions to increase oxytocin, to decrease adrenaline and stress, and shift children and adolescents into a parasympathetic "rest and digest" balance.
ABOUT:
Dr Leila Masson, Sydney-based specialist paediatrician and author of "Children's Health A-Z" a parent's guide to natural therapies for common childhood ailments.
Leila specializes in nutritional and environmental medicine for children's health issues, including allergies, asthma, behaviour problems, autism spectrum disorders and ADHD. She received her medical doctorate from the Free University of Berlin and did her paediatric specialist training at the University of California in San Francisco. She received her Master in Public Health from Harvard University and her Diploma in Tropical Medicine from the London School of Hygiene and Tropical Medicine.