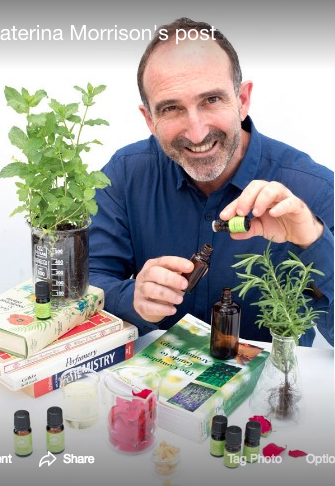 Aromatherapy is the use of aromatic plant oils, including essential oils, for psychological and physical wellbeing. Aromatherapy can induce an incredible affect on your olfactory nerve (part of the system we use for smell)
and the different smells (aromas), and the chemical constituents of the oils, can produce different emotional and physiological reactions which become anchored.
Perfect Potion, Australia's best organic aromatherapy company designed by Salvadore Battaglia and his partner Caroline Stubbin 28 years ago was instrumental to my love for aromatherapy and natural care skin products.
I am happy to announce that The Wellness Couch has secured a chat with this incredible alchemist of aromatherapy.
There is a growing awareness that we have to take responsibility for the world in which we live, and an increasing desire for a more holistic approach to our wellbeing. We now appreciate the delicate balance of nature and strive to maintain this harmony by using natural products that are nurturing to us and are safe to nature.
The Perfect Potion team are dedicated to creating an innovative and diverse range of holistic natural aromatherapy products that not only nurtures the body, mind and spirit but also respects the delicate balance of our environment.
Perfect Potion's certified natural skincare preparations use certified organic essential oils and plant extracts that offer a gentle and holistic approach to personal wellbeing and revitalise and harmonise body, soul and spirit.
Perfect potion have established a standard to which others can only aspire with a philosophy that harmonises social and environmental concerns with aesthetic appreciation.
This is perfect Potion , this is Salvadore Battaglia.
Listen in as we chat about Oraganic aromatherapy products, his new spiritual range, his new book "Aromatree", whether it is a good idea to ingest aromatherapy, plants, trees, the environment and the value they play in expanding our consciousness.